Harry Farrugia.
A boys action and adventure comic artist.
by Alex Vella
Page last updated August 2014
The above photograph is courtesty of Arthur Tabone, who has provided the information for this article about Harry. On the left is Harry Farrugia, then Arthur Tabone and finally Arthur's father Olaf. The photograph was taken sometime in 1963 in Chiswick, London, where Harry was living at the time.

[I and Alex Vella would like to thank Arthur Tabone for the information he has provided about Harry and for the above photograph. AB].

An appreciation of the artist and his work.

Note - additional information provided by Craig Farrugia, nephew of Harry, since Alex wrote the below article, appears in italics within square brackets thus - [italics].

Harry Farrugia was of Maltese ancestry and was born to Albert and Adele nee Diacono on the 17th May 1919 at Port Said, Egypt. [He was the eldest of four children. Harry's youngest brother Paul is also an artist. But he mainly drew / painted landscapes]. The fatherís occupation is not known, although he may well have worked for the Suez Canal port authority or as a merchant. Harry was the first-born and had two brothers and a sister. Harry was tall, somewhat overweight, and wore thick glasses due to poor eyesight. He spoke English and French, but no Maltese and is not known to have ever set foot in Malta. He was a bit of a loner and never got married, although he had a number of girlfriends over the years. He was of a quiet and calm disposition. His bad eyesight was probably the reason why he saw no active service during the war, which he appears to have spent in Port Said.

Farrugia first set foot in the UK, at age 27, on the 8th May 1946 aboard the ship MV Ajax, in Liverpool. His ship passenger register entry already listed him as an artist. He initially lived in London, later on moving to Chiswick, and finally to West Moors in Dorset.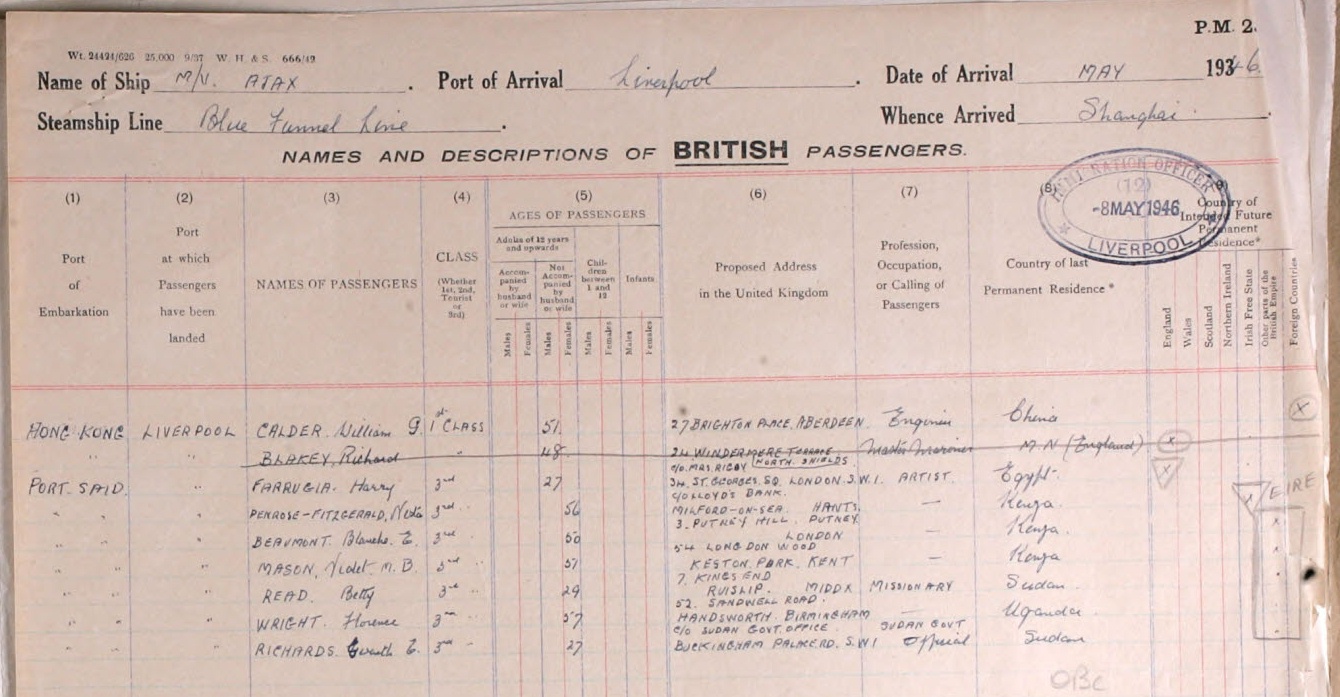 [Harry is the third passenger on the list. AB].
He worked in pen, brush and ink, sometimes after making pencil sketches and is not known to have ever worked in colour. He was self-taught and consulted a lot of military books for details of uniforms, arms and equipment. Marine subjects were his favorite, no doubt due to his having grown up in Port Said on the Suez Canal. He was obsessed with his work on comics and worked for long hours, often falling asleep on his drawings. Harry worked from scripts forwarded to him by the publishers which specified the wording, bubbles, and images which were to appear in each box. He produced large originals which he would deliver personally to the publishers in large folders once a week. These they would later reduce photographically for printing. He is only known to have worked on comics in the UK, on a purely freelance basis.
[Since Alex wrote this article, he has discovered further artwork by Harry, including a portrait of Winston Churchill, copied from another painting, military drawings and book cover artwork for a Maltese detective, Bendu Muscat, a sort of Maltese Sherlock Holmes written by Ivo Muscat Azzopardi. The author lived in Alexandria, Egypt and it was in this country that the first story was published. Harry signed his work and his signature has been identified as his by his nephew, Craig. We think the illustrations for the book cover and internally would have been drawn when Harry was in his late teens.].
Farrugia started working in comics for the Amalgamated Press in the late 1940s and was quite a prolific artist for TV Fun, Radio Fun and the war libraries. He seems to have first worked for D. C. Thomson in 1961, drawing the true-life war strips for Victor and then moving on to strip stories with The Purple Trumpet. He kept up a prolific output right up to the time of his death, working for Victor, Hornet, the Fleetway war libraries and some features in Jag, also for Fleetway.
Harryís style was quite unique and unmistakably his own. People were very nicely drawn and his facial expressions are notable in their intensity, using an economy of penstrokes. He spared no efforts in his drawings to portray as accurately as possible uniforms and equipment. His backgrounds were also very meticulously done. Farrugia was especially good at portraying action sequences, achieving quite dramatic effects.
Harry Farrugia died tragically, at the young age of 51, in a traffic accident on the 28 September 1970, near Picket Post, north of Bournemouth, which is on the south-west coast of England. [As reported on the front page of the Bournemouth Evening Echo newspaper, Saturday 29th August, 1970. AB.]
Below are two examples of artwork from two stories that Harry drew for the Fleetway War Picture Library. The image on the left is from issue no. 73 Colours Flying and on the right from issue no. 46 Operation Fury.
The Chase for Harry Farrugia
I first got to know of Harry Farrugia when first accessing this website in August 2008. I was quite surprised to find the Maltese flag among those fluttering on the home page and eagerly read on to find that one of my favourite Victor artists was, as it turned out, of Maltese ancestry. I got into correspondence with Adrian but my research into various records in Malta did not turn up any information about Harry. At one point, when Adrian informed me that Farrugia was thought by some of his colleagues to be Spanish, I even concluded that he might have come from the thriving Maltese community in Gibraltar!
Adrian persisted in his searches through British records and finally, among other things, found his arrival entry record in Britain by ship from Port Said, Egypt in 1946 as well as newspaper reports on his fatal traffic accident in 1970. In these reports a Wilfred P Diacono from London was mentioned as his sole UK relative, who identified his body for the inquest. I wrote in the Malta Sunday Times trying to trace Mr. Diacono, or any of his relatives. As it turned out Mr.Diacono had passed away but I was contacted by Mr. Arthur Tabone who provided much of the information we have on Harry Farrugia.
Mr. Tabone was not only related to Harry Farrugia but actually lived with him in Chiswick for nine months in 1963/64, while attending the St Martinís School of Art. Arthur helped Harry by doing backgrounds for him in pictures he was producing for the War Picture Library. He remembers that, at that time, publishers were already reducing the number of artists working for them, due to a decline in demand for such comics. They had in fact already started reprinting old editions along with new ones.
The image below from a 1964 London Telephone Directory shows the address where Harry lived in Chiswick, London. Note how Harry has cleverly added the word 'art' as his middle name. A good way of advertising his business and standing out from the other Farrugia's listed. Interesting to note that telephone numbers were much shorter back in the 60's! AB]
Arthur had harboured artistic ambitions at the time but eventually gave up, after realizing how difficult it was to earn a decent living in art and the fierce competition it entailed; where only a few actually made it. On returning to Malta, he got involved in the tourism industry in which he was successfully active until he retired some years ago.
Below are several links which will take you to other pages on this website showcasing Harry's artwork for The Victor and The Hornet. Further examples of Harry's work will be added to this site in due course.
A detailed listing of strips that Farrugia drew for the Victor and Hornet comics, can be accessed via the index button links below.
The image below is a dramatic Farrugia detailed piece of artwork from Fleetway's War Picture Library story, issue no. 73 Those in Peril. (I wonder if Arthur Tabone drew any of the background artwork for any of the three War Picture Library images on this page? AB).
For those wanting to track down a complete list of Harry Farrugia's Fleetway Picture Library stories please see Steve Holland and David Roach's -
The Fleetway Picture Library Index volume 1, The Book Palace, 2007.
The index also showcases many of the front covers of the Picture Library stories in glorious colour.
&copy Alex Vella and Adrian Banfield 2010.