The Limping Man.
The images above illustrate some of the gadgets hidden inside The Limping Man's crutches. Images are from issues 134, 232 and 127. Artist Farrugia.


See The Hornet first series - issue 126 (5th February 1966) to issue 135 (9th April 1966).

Second series - issue 223 (16th December 1967) to issue 234 (02nd March 1968).
Writer(s):- The Hornet editorial team. Artist:- Henricus "Harry" Farrugia.
Main cast:- Captain Spencer, a top British Secret Agent.
Time period:- Europe, Middle East, Africa and the Far East during World War Two.

Captain spencer, codenamed 'The Limping Man' is a top British secret agent of the world, who has the skill and ability to blend into any social level whether it is in Europe, the Middle East or the Far East. His trademark is a limp which he uses in all of the characters he portrays. Maybe he incorporated the limp into his disguised characters (beggars, eldery retired war veterans and so on), so as be seen as simple, helpless and not a threat to the occupying enemy forces. (It's worth pointing out that Spencer out of disgusie does not have a limp).

George Hill, a real life secret agent who worked mainly in Russia during the First World War mentions in his memoirs, 'British spies have slipped through the Khyber Pass disguised as Afghans, or loitered in Eastern bazaars in the dress of native traders, but it is difficult for a man, however much he has tarried amongst them, to imitate with faultless exactitude the accent, habits, ways of thought of an alien people, and for that reason the espionage agent finds himself again and again compelled to resort to the employment of nationals.' But not so for 'The Limping Man'. (Hill, George Go Spy the Land, 1932.) Incidentally, it is worth tracking down Hill's book as some of his adventures are very dramatic. The author writes of his adventures in an entertaining and lively prose. Hill knew and worked with the 'Ace of Spies' Sidney Reilly in Russia.

And because The Limping Man has a limp he uses a crutch which also hides many secret gadgets which aid him on his missions. For example, crutches that could be extended to form a ladder or hide a radio or bow and arrows and even on one occasion a mortar and a couple of bombs! In one story Spencer selects a particular crutch from the armourer by asking for 'number 7'. (See the image below). Amazingly, Spencer always chose the right crutch with the necessary gadgets to help him complete his missions and to get him out of tight situations every week.
The above image is from issue 233. Artist Farrugia.
The Limping Man's missions took him to North Africa, Europe, the Middle East and the Far East to battle against the Germans and the Japs. No matter where the story was set each week 'The Limping Man' outwitted his opponents by brain and where necessary brawn.
The stories are inventive, fast moving and with striking artwork by Maltese artist Henricus "Harry" Farrugia.
Virginia Hall - 'The Limping Lady'.
Was there an agent codenamed the Limping Man operating during World War Two? Possibly an agent may well have had that cover name, but any reference to him or her is lost in the mists of time. There was however, a limping woman, Virginia Hall, (1908 to 1982). (Although this wasn't her cover name, she was known within the French underground as 'la dame qui boite' or 'The Limping Lady'). Cover names that Hall used included - "Marie Monin," "Germaine," "Diane," "Camille," and even "Nicolas". The daughter of a wealthy American family, she was recruited by the British Special Operations Executive (SOE) (*Please see information further down this page for information about the SOE).
Already fluent in French the SOE trained her in the use of weapons, communications, resistance activities and security measures. Later in the war Hall transferred to the American equivalent, the Office of Strategic Services (OSS) in 1943. (The OSS was the forerunner of the CIA). Although unlike Captain Spencer who didn't have a limp, Hall did as a result of losing part of her leg in a shotgun accident, whilst on a hunting party in Turkey. As a result she wore a wooden leg, which gave her a limp when she walked. She called her artificial leg Cuthbert. During one radio broadcast, Hall complained that Cuthbert was giving her problems. She received the reply that if Cuthbert was giving her problems she should have him eliminated!
Hall who was the first SOE female to be sent to France, based in Lyon. Her cover was as an American newspaper correspondent. By the winter of 1941, with the Germans closing in on her, Hall escaped on foot over the Pyrenees Mountains into Spain. Hall returned to the Haute-Loire region of central France in 1943 as a member of the OSS, disguised as an elderly milk maid. On this occasion she worked as a radio operator, a particularly difficult and dangerous job, as the Germans were always monitoring radio transmitters. The active life of a radio operator in German occupied Europe was only six weeks. She presented such a threat to the Germans that they distributed a wanted poster with a rough sketch of her facial features, exclaiming, "the woman with the limp is one of the most valuable Allied agents in France and we must find and destroy her". (The Germans never did capture Hall). In response, Hall trained herself to walk without a limp. Apart from sending intelligent back to the Allies, she also co-ordinated air drops in support of D-Day, trained and led maquis resistance groups in guerrilla warfare and sabotage.
Hall was awarded the Member of the British Empire (MBE) by King George VI in 1943 and in 1945 America's Distinguished Service Cross (DSC) for her brave wartime service. Hall was awarded the US DSC by General William Joseph Donovan – the only one awarded to a woman in World War II. The sole guest at the ceremony was Virginia's mother. After the war Hall continued to work for the OSS and then the Central Intelligence Agency (CIA), until her retirement in 1966.
Hall being awarded the US Distinguished Service Cross by General William Joseph Donovan.
*Special Operations Executive (SOE)
The SOE was set up at the behest of the British Prime Minister, Winston Churchill on 16th July 1940 to 'set Europe ablaze,' using sabotage and subversion methods. Military and civilians with various skills for example, being fluent in a language and knowledge of a occupied country were recruited. The SOE then trained them in the use of weapons, unarmed combat (including how to kill), communication techniques, personal security and so on. Located in Baker Street the new organisation grew at a fast rate. Training facilities were set up around the country. One of these being the SOE's Finishing School at Beaulieu, Hampshire. The house stands on the estate of the Montagu Family. George Hill served as an instructor at Beaulieu, with the rank of Brigadier. Hill was one of the few instructors who had experience of working as a spy and 'had seen and done it all' and survived to pass on his knowledge to others.
Working as an SOE operative in Nazi occupied territory was a dangerous job. Those agents who were caught could expect to be tortured and then shot or sent to prison camps.
The first major success of the SOE was the blowing up the Pessac power station in France in June 1941. Other successful missions followed including the SOE trained assassination of Himmler's deputy Reinhard Heydrich and probably their most famous exploit the destruction in 1943 of the heavy water plant at Vemork, Norway.
The SOE expanded its operations beyond Europe to the Far East, where the organisation was known as Force 136.
Secret gadgets
Some of the secret gadgets hidden inside Spencer's crutches for example, a mortar, extendable ladder and so on, might seem slightly far fetched. But in fact the SOE boffins (scientists), were a very resourceful and inventive lot and produced many gadgets for its operatives to use in the fight against Nazi Germany. In the book, Secret Agent's Handbook of Special Devices: World War Two, published by The Public Record Office in London, tells the story of some of these inventions. Below are a few examples. The image on the left is an Incendiary briefcase and on the right, an explosive rat! Most famously used and seen in the film Guns of Navarone.
But it wasn't just explosive devices that were invented by the SOE boffins. They also produced medical supplies, drugs, make-up equipment and so on. Below are a couple of ingenious examples for camouflaging equipment.
(In January 2006 there was an arguement between Russia and Great Britain, that M.I.6 Britain's external Intelligence Agency was spying in the USSR. This involved a variation on the camouflage rocks used by the SOE. Agents would approach what looked at first glance a 'rock', but which inside was hidden an electronic transmitter which downloaded information onto palm-top computers held by agents). Please visit the B.B.C.'s report.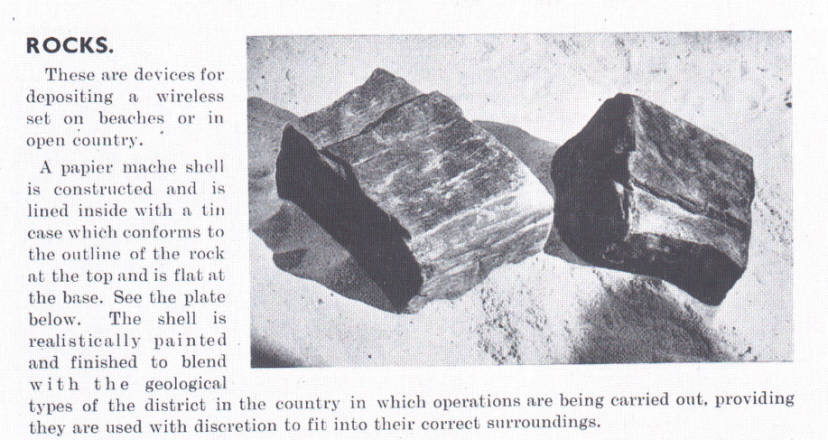 References
Cunningham, Cyril Beaulieu: The Finishing School for Secret Agents.- Pen and Sword, 1998.- 2nd. ed.- 162p.- ill.-
Hill, George Go Spy the Land, 1932.
Public Record Office Secret Agent's Handbook of Special Devices: World War Two.- London: Public Record Office, 2000.- 258p.- ISBN 1903365007.- Hdbk.- ill.-
http://userpages.aug.com.
http://www.smithsonianmag.com/history-archaeology/hall.html
www.64-baker-street.org
The following adventures of Captain Spencer are from issues 131, 223, 226, 229 and 234.
&copy Adrian Banfield, 2009.