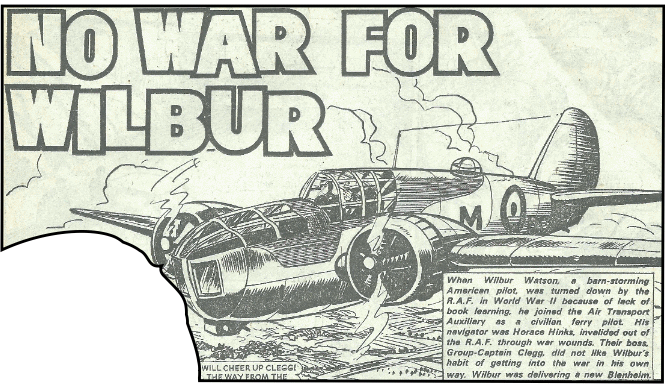 A strip from The Victor
See The Victor 1164 - ?; 1190; 1192; 1199; 1253; 1254.
Writer:- The Victor editorial team. Artist:- Not known.
Main cast:- Wilbur Wilson; Horace Hinks; Group Captain Clegg.
Time period:- Second World War.
Some confusion about the main character's surname is evident in this series. In issue 1165 Wilbur's surname is Wilson, but by issue 1168 it has changed to being Watson!
The following adventures of Wilbur are from issues 1165; 1168 & 1169.
***Please note that I am using a standard thumbnail image for all the full size pictures on this page. This is purely being done to save myself sometime.***
text &copy Adrian Banfield, 2017; artwork &copy D.C. Thomson Co. Ltd.