Richard Terry Rawlings (1921 to 2010).
Please note this is a work in progress page. Last updated Oct. 2010.
All artwork on this page is by Ted Rawlings, copyright D.C.Thomson, unless otherwise stated. The artwork above is of three characters drawn by Rawlings for The Victor. From left to right, Corporal Millar, Chell Puddock and characters from The Hot-Air Hussars. Images are from issue 991, the 1975 Victor Annual and issue 937 respectively.
My thanks to Lyn Flanders for her assistance in compiling this obituary of Ted Rawlings.
Richard Terry Rawlings better known as Ted Rawlings to countless readers of The Victor and other D.C. Thomson story and picture comics passed away quietly on Friday 06th August, 2010 aged 89 in Newport-on-Tay, near Dundee.
Ted was born on the 24th May 1921 in the registration district of St. Olave, Bermondsey, London near Tower Bridge. A location which remained very close to Ted. Lyn Flanders a close friend for the last fifteen years of his life says "he was always telling tales of the bridge, as a boy he once dropped all his toy soldiers into the river from the bridge and was amused to be overlooked by a policeman. I know [Ted] had no formal training but had a natural ability to draw and had the imagination to produce the comic strips. He came from London in the fifties having won a D.C. Thomson`s art competition [in 1955] and was subsequently offered a job by them. He was a freelance artist with them for a long time. Funnily enough when I was very young - at the very time Ted was handing in artwork to D C Thomson for the comics I was employed by their art department and drawing the balloons containing the text - so we laugh that I may well have drawn balloons on some of his pages!"
Prior to working for D.C. Thomson, Rawlings worked in a bank and served with the RAF regiment during World War Two.
For the D.C. Thomson story papers, Rawlings provided a single picture, to accompany a text story. Two examples of which are below. No doubt he would have contributed artwork to many other comics and publications in the Thomson stable.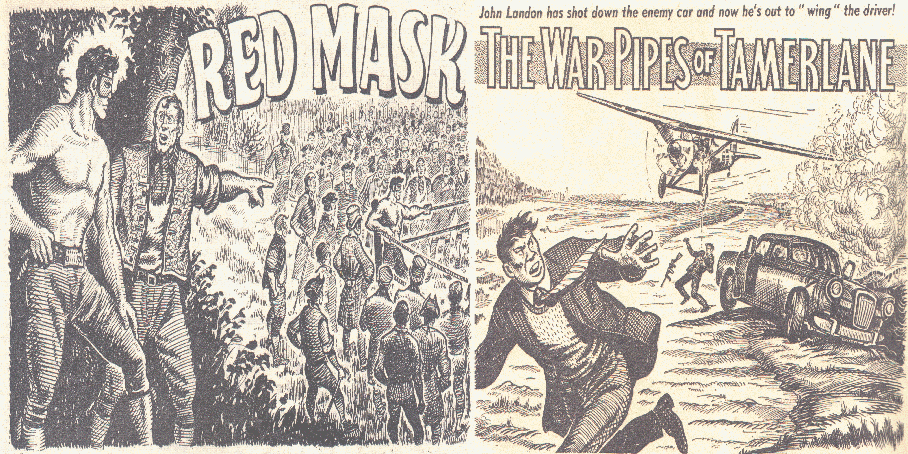 The above images are from the Rover and Wizard story comic. The image on the left is from the 13th August 1966 issue and on the right from the 22nd April, 1967 comic.
With the publication of The Victor, Ted began providing artwork for many series and countless other complete one issue stories. He was the artist in the early years of Victor's life for series characters such as Solomon Stark, a soldier of fortune in the Far East and the Scottish outlaw The Red MacGregor. Later, he provided the artwork for another well known and loved series character, Chell Puddock, he of the welder of a giant and heavy hammer.
It's images from the comics that I read that still linger in my mind's eye from my childhood days. If I try to recall any valuable lesson from my early years at school, I draw a blank. But when I think of the comics I read, characters and images from their pages, flood my memories. Characters such as The Red MacGregor drawn by Rawlings and other artists work.
Checking the Victor Index, it is noticeable that artists were kept drawing certain genre of strips. So for example Bert Vandeput in 1960's, early 1970's drew sport strips. In Rawlings case he always seemed to be assigned to provide art for stories set between the 15th to early 19th centuries.
Ted continued to draw after his retirement and produced many drawings and oil paintings that were given to friends and family. Two examples of his paintings are reproduced below and come from the collection of Lyn Flanders. The painting on the left is of boats in Arbroath Harbour and on the right of Eilan Donan Castle, Scotland. Copyright Ted Rawlings.
My thanks to Lyn Flanders for the below images of drawings from one of Ted Rawlings drawing books. Copyright Ted Rawlings.
For further examples of Ted Rawlings work on this site please visit the following pages:- Sergeant Bob Millar, The Dragon Flag and a complete western story. Other examples of Ted Rawlings work will be featured on this site in the coming months.
Lyn Flanders also worked at D.C. Thomson - [ I worked as a ] "titled assistant artist but this did not involve actual art - just layouts and balloons as far as I recall! I think we just did layout of the comic pages - I am talking about 1964 - a lot of water under the bridge since then. It was fun though - there were 96 working in the art department - a huge room at the top of the building. Quite a few of the artists - like Ted - were freelance and just called in with their work."
The images below are on the left Solomon Stark from the 1969 Victor Annual and on the right the Red MacGregor and his friends Hal O' the Heath and Laughing John or in french Jean-Qui-Rit from issue 430. Artist Ted Rawlings..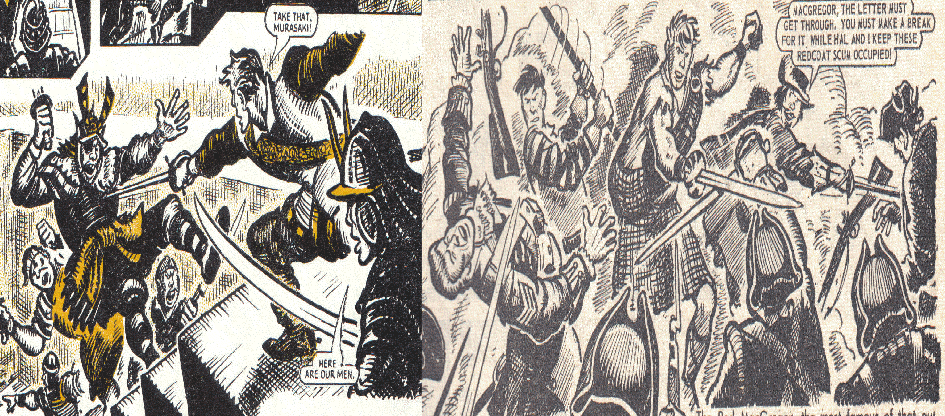 Note - Ted Rawlings was not related to Leo Rawlings, another Thomson artist. For further information about Leo Rawlings please click on the link.
&copy Adrian Banfield and Lyn Flanders, 2010.