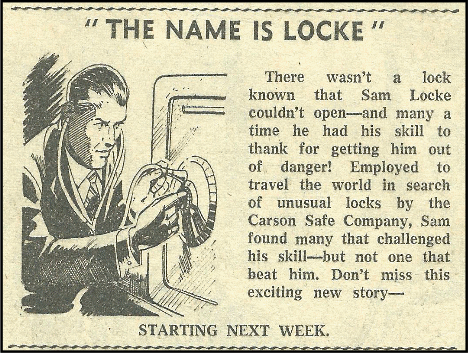 A strip from The Victor
See The Victor 146 - 155.
Writer:- The Victor editorial team. Artist:- not known.
Main cast:- Locke.
Time period:- 1960's.
I've always been a great reader of books, but for some reason I never read the text stories that were published in the Victor. My loss as the stories I have read are entertaining reads. I haven't posted too many text series so far on this website, so expect to see more text series being posted during 2018.
As the main character's name suggests this is a series about a master locksmith and his exciting and varied adventures whilst travelling around the world.
Vic Whittle at British Comics very kindly sent me the following information about the Locke series and about other Locke series that had the same name, but had no connection to this series. Vic also sent me several scans from these series.
'Sam Locke appeared in 'The Victor' (as you may know) issues #146 7/12/1963 - #155 8/2/1964 under the title 'The Name is Locke and his business is Locks'. Sam Locke also appeared in 'The Wizard' (second series) issues #436 17/06/1978 - #437 24/06/1978 (last issue) under the title 'Lockmaster Locke'. Another Locke with a similar title was Pickerell Locke who appeared in 'The Rover' issues 1496 27/2/1954 - 1507 15/05/1954 under the title 'His name is Locke - and his business is locks' a very similar title.
A different Locke appeared in 'Rover and Wizard' as one of the Big Stories issue 205 19/12/1964 under the title 'The Key Man was Locke'. This was the story of a Private being held in a military prison and a Captain in the S.A.S. required his release with the promise of a pardon to break into a German Commander's office and open a safe without any trace.'
The following adventures of Locke are from issues 149; 150; 151; 153 and 154. Note - the first page of Locke's first adventure in the Victor issue 146, is at the bottom of the page. Scan courtesy of Vic Whittle.
***Please note that I am using a standard thumbnail image for all the full size pictures on this page. This is purely being done to save myself sometime.***
Scans sent to me by Vic Whittle featuring another Locke, not connected to this series.
text &copy Adrian Banfield 2017; artwork &copy D.C. Thomson Co. Ltd.