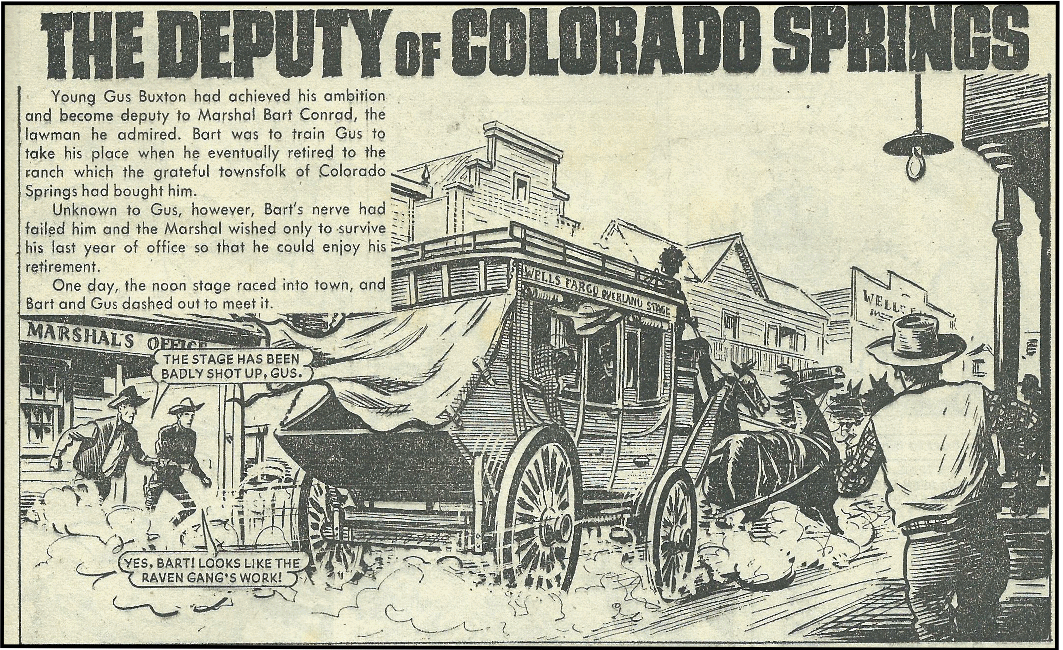 The above image is from The Deputy of Colorado Springs story, issue 654.
A strip from The Victor
See The Victor issues 653 - 664.
Writer:- The Victor editorial team. Artist:- Kearon?
Main cast:- Marshall Bart Conrad; Deputy Gus Buxton.
Time period:- American Wild West, late 1800's.
This months western series The Deputy of Colorado Springs is unusual in that one of the lead characters who you would assume to be a hero, isn't. Marshall Bart Conrad once was, but he's been involved in one too many gunfights over the years as the Sheriff of Colorado Springs and as a result has lost his nerve. And now he'll do anything to avoid getting involved in a gunfight.
All of which is bad news for his new deputy, eighteen year old Gus Buxton, who looks up to Conrad and has no idea, the Marshall has lost his nerve. Will Gus be able to remain alive, will he begin to suspect the truth and will Conrad find the courage to help his deputy in a gunfight?
A very different story and one dealing with a subject you wouldn't necessarily expect to read about in a boys comic where usually all the heroes are just that, heroes. Young boys reading the series wouldn't really understand the Marshall's breakdown. But re-reading this series from an adult's point of view, I can't help but feel sympathy for the Marshall. A cracking series.
The following adventures of The Deputy of Colorado Springs are from issues 653; 655; 657; 660 & 664.
***Please note that I am using a standard thumbnail image for all the full size pictures on this page. This is purely being done to save myself sometime.***
text &copy Adrian Banfield, 2015; artwork &copy D.C. Thomson Co. Ltd.