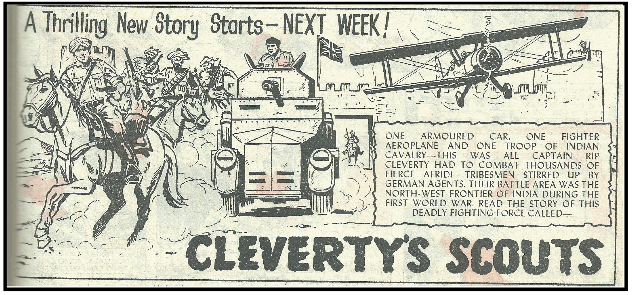 Cleverty's Scouts

A strip from The Victor
See The Victor 605 - 615.
Writer:- The Victor editorial team. Artist:- Diaz?
Main cast:- Lieutenant Dick Mason, Armoured Corps; Captain Rip Cleverty, 3rd Frontier Scouts; Risalder Ali Khan, 2nd in command, 3rd Frontier Scouts; Pilot-Officer Jim Frobisher, RAF.
Time period:- North-West Frontier (India), 1918.
World War One action this month on the North West Frontier of India with the 3rd Frontier Scouts. With a small force of native soldiers, one armoured car and a fighter aeroplane available, Captain Rip Cleverty has to quell native unrest in the mountainous region. The last thing Cleverty needs is a German officer Major Gruber stirring up trouble.
As Cleverty is commander of Fort Victoria, which sits on the boundary between British and tribal areas, it is up to the Captain to keep the peace in the surrounding area. But even with the aid of an armoured car and a fighter aeroplane, will that be enough to prevent the entire region from exploding into a cauldron of violence?
Read the stories of this small force as they pit their experience and skills against the combined native and German forces wily schemes.
The following adventures of Cleverty's Scouts are from issues 605; 607; 608; 610; 612; 614.
***Please note that I am using a standard thumbnail image for all the full size pictures on this page. This is purely being done to save myself sometime.***
text &copy Adrian Banfield, 2016; artwork &copy D.C. Thomson Co. Ltd.