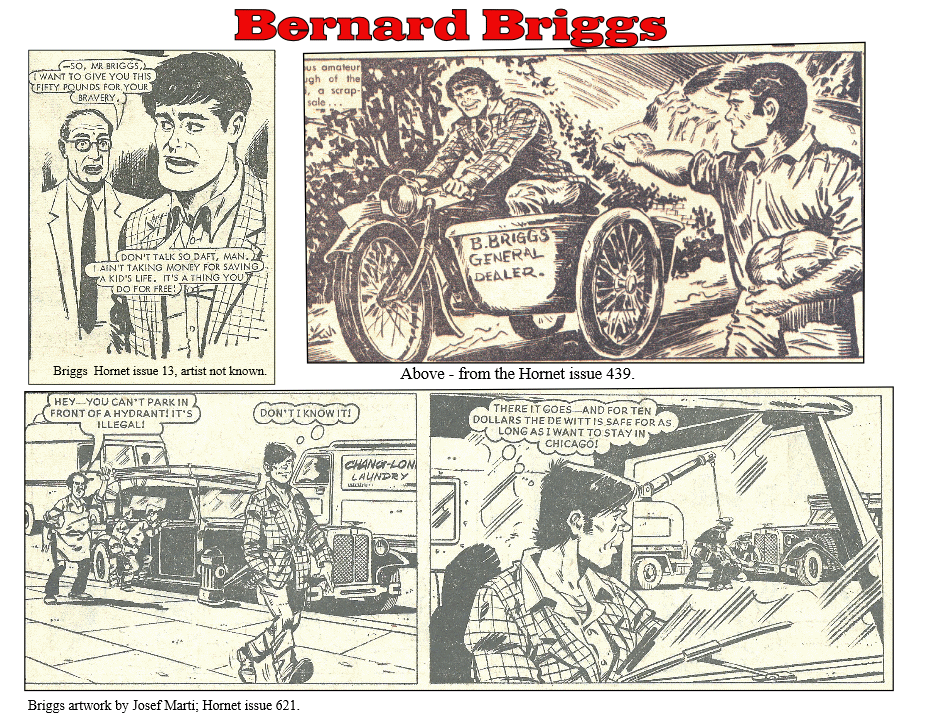 Artists above from left to right - unknown, Harding and Josep Marti.
A strip from The Hornet
See The Hornet issues -
1 - 16 Bouncing Briggs (sport; football; Blackton Rovers; Briggs playing in goal; artist not known).
56 – 72 Briggs the Goalie. (sport; football; regular artist, not known).
79 – 88 Briggs the Goalie. (sport; football; regular artist, not known; Blackton Rovers; European Cup) RP 414 - ?
104 – 119 (Bernard the Boot; Rugby League; regular artist, not known).
201 - ? (title - Bernard Briggs, the No Goal Goalie; artist not known; playing for Stockley Rovers).
starts prior to issue 254 - 258 (Bernard Briggs, the boxer; artist not known).
278 - 294 (Bernard the Boot; Rugby; touring Australia).
352 - 367 (Bouncing Briggs; Athletics, general; regular artist, not known).
414 - ? (title - Briggs the Goalie; playing for Blackton Rovers RP of 79 - 88).
439 - 463 (title - King Bernard; ruler of an old oil rig, just of coast of England; also stars Alf Tupper; Adele Boyle or as Alf nicknames her Blooming Ade; raises a football team called the Scraplanders and they win the Amateur Nations Cup; artist Harding).
470 - 477 (title - Bernard Goes For Gold; featuring the Scraplanders, minus Tupper who had lost his sight; regular artist, not known; see the Victor Index for this story).
479 - 494 (title - Bernard Goes for Goals). Last panel - A week later Bernard was back at Worbridge Town).RP of 104 - 119).
495 - ? (title - Briggs the Goalie; first panel fishing junk from an old quarry; Grafton Albion near bottom of 4th Division; artist regular one?)
554 - 568 (title - Bernard Briggs: The Roughneck of the Courts; Briggs playing tennis; artist Josef Marti).
569 - ? (title - Bernard the Bullet; moto-cross racing on a bike called The Bullet; regular artist).
? - 612 (Death Rider; RP?).
614 - 632 (title - Deliver That Car; story set in America; artist Josef Marti).
633 - 646 (title - Briggs the Goalie; RP issues 56 - 72)?
647 - 648 (title - Bernard Briggs, Champion of Champions; note final issue of the Hornet is 648, series continues in the Hotspur.
stories published in the New Hotspur comic -
940? - finishes before 955 The New Hotspur; ? title - Bernard Briggs, No-goal Goalie; artist not known)
starts prior to 962 - ? The New Hotspur; ? title - The Boyhood of Bernard Briggs).
Hotspur annual 1986 (title - Bouncing Briggs; artist not known; living in a disused railway signal box, interested in pole-vaulting; competes with American airmen on their sports day at baseball and pole-vaulting.
Series featuring Briggs as a motor-cyclist RP and collected as Red Dagger issue 26.
Writer:- The Hornet editorial team. Artists:- one unknown artist; Tony Harding; Josef Marti; others?.
Main cast:- Bernard Briggs.
Time period:- 1960's.
Bernard Briggs was the Hornet's equivalent of the Victor's Alf Tupper. Both men were poor but always optimistic, they disliked bullies, were always ready to defend themselves with their fists, both worked with metal (Briggs dealt in scrap), and both men loved and played sport. But unlike Tupper, Briggs was more of an all-round sportsman, playing football, rugby, tennis, motor-cycling, athletics and other sports. Both men were also known to exclaim "Blooming Ada". Bernard travelled around on a motorbike using an old bathtube as a sidecar.
Briggs was a popular character for the Hornet, appearing in many strips and once the comic had folded, his adventures (either reprints or new ones), continued in the Hotspur (picture comic). His tales had also appeared earlier as text stories in the Wizard comic.
One of Briggs best stories King Bernard featured several characters from other D.C. Thomson stories, including Alf Tupper and Arnold Tabbs (from the Blitz Kid series). Bernard had bought an old war time fort as scrap in a sale. Unfortunately, a villainous group alsowant the fort for their own plans. And they aren't to picky about how they acquire it. Tupper goes into partnership with Bernard using his welding experience to cut the fort up. The partnership isn't a smooth one. Both characters are tough and proud and they fall out several times (usually involving a fist fight) during the series. As the series progress's so other characters join the pair. There was a follow up series called Bernard Goes For Gold, but this was minus Tupper. His absence was explained by the fact that Alf had lost his eyesight. This ties in with the Tupper series timeline.
For more information about the artist Tony Harding please click on the following link - Tony Harding page.
The following adventures of Bernard Briggs are from issues 13; 56; 60; 439; 621; 626; .
***Please note that I am using a standard thumbnail image for all the full size pictures on this page. This is purely being done to save myself sometime. Please read the stories below left to right, row by row.***
Further episodes will be added when time allows.
My apologies for the missing part from the third page of issue 13 below. The comic was in this state when I bought the issue.
The first historic meeting between those two giants of sport Bernard Briggs and Alf Tupper, took place in the Hornet, issue 439, 05th Feb. 1972. The first episode of the series, King Bernard is below.
text &copy Adrian Banfield, 2014; artwork &copy D.C. Thomson Co. Ltd.