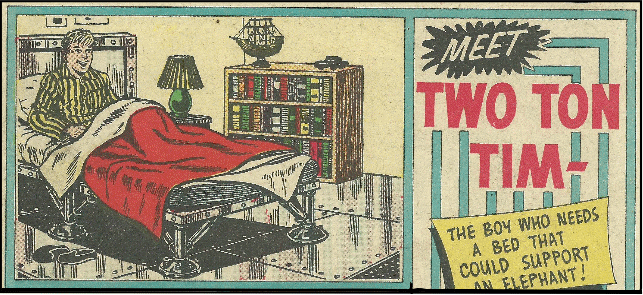 A strip from The Hotspur
See The Hotspur issues 38-48; 53; 1968 annual (artist Holroyd).
Writer:- The Hotspur editorial team. Artists:- Not known; Holroyd? (1968 annual only).
Main cast:- Tim Timson.
Time period:- 1960's.
This humorous series follows the adventures of Tim, who weighs two tons. He's so heavy that his bedroom and other rooms in his house have to be reinforced with strong metal plates to stop him crashing through the ceiling and floors. Cue much merriment.
The following adventures of Two-Ton Tim are from issues 38, 39; 41; 44; 48 and the 1968 annual.
***Please note that I am using a standard thumbnail image for all the full size pictures on this page. This is purely being done to save myself sometime.***
text &copy Adrian Banfield, 2014; artwork &copy D.C. Thomson Co. Ltd.