A strip from The Hotspur
See The Hotspur issues -
21 - 35; 150.
1970 annual (note - featuring Constable Rodgers)
.
Writer:- The Hotspur editorial team. Artist:- Bill Holroyd?

Main cast:- Sergeant Ben Rodgers; Constable Frank McNally of the Royal Canadian Mounted Police.

Time period:- late 19th century?

Back when I was lad and reading the Victor, I knew that if a story was set in Australia or South America then it would feature hot, sunny weather. If the story was set in Canada , then I could expect a wintery, snowy adventure. (Back then I probably assumed that Canada was constantly in the grip of ice and snow. Not true as far as the south of the country is concerned. It can get very hot during the summer months).

This series of adventures about Sergeant Ben Rodgers of the Mounties (Royal Canadian Mounted Police), sets half of the stories in snow and the other half during the summer. Being an adventure series the majority of stories feature a crime of some sort. But there are also several stories of a non-crime nature for example, survival or take a slightly different slant on a story about crime.

Sergeant Ben Rodgers is a wily policeman who with his less experienced assistant Constable Frank McNally, patrol a vast area of northern Canada . The experienced Rodgers has to deal with many varied problems and criminals. And as can be read in the episodes below demonstrates he is more than capable of dealing with all of the various crimes. (Who knew that his patch could be so crime ridden).

One other Rodgers adventure appeared in the Hotspur annual 1970. Curiously Rodgers is only a constable in this story, so I assume it is one of his early adventures.

The artwork is by one of the Holroyd brothers (not sure which one) and suits the series perfectly. Iíve always enjoyed any stories set in Canada and especially if they feature the Mounties, whether its an adventure, humorous or factual series. Thankfully there have been a good sprinkling of Canadian set stories in D.C. Thomson boys comics.

The following adventures of Sergeant Ben Rodgers are from issues 21; 22; 25; 26; 30; 31; 33 and 35.

***Please note that I am using a standard thumbnail image for all the full size pictures on this page. This is purely being done to save myself some time.

***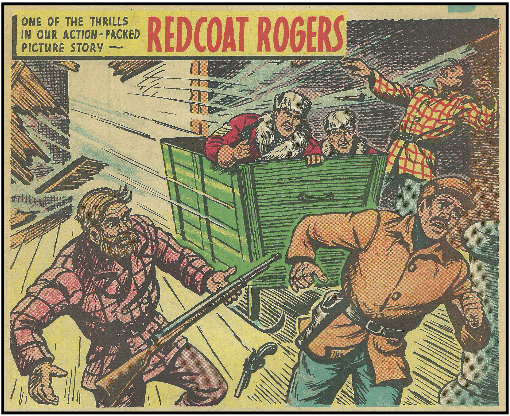 The above picture is from the front cover of the New Hotspur issue 26.
text &copy Adrian Banfield, 2014; artwork &copy D.C. Thomson Co. Ltd.