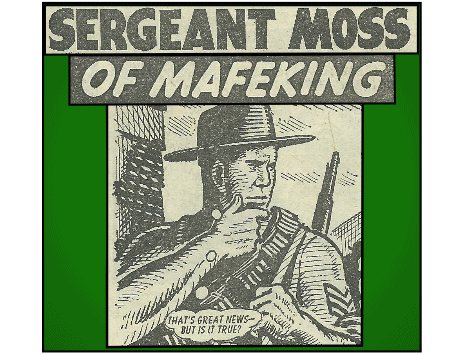 A strip from The Hotspur
See The Hotspur issues 269 – 278.
Writer:- The Hotspur editorial team. Artist:- Ted Rawlings.
Main cast:- Sergeant Moss.
Time period:- Boer War, South Africa.
From the synopsis of the series in Hotspur (picture series), issue 268, 'The battle for Mafeking is on! It's the South African War, and the Boer, or Dutch rebels are laying siege to the British settlers in the town of Mafeking. There were many heroes of the siege, but perhaps the bravest of them all was Bert Moss, the Mafeking blacksmith!'
The following adventures of Moss are from issues 269; 270; 272; 274; 275 & 278.
***Please note that I am using a standard thumbnail image for all the full size pictures on this page. This is purely being done to save myself some time.***
text &copy Adrian Banfield, 2017; artwork &copy D.C. Thomson Co. Ltd.