Image from the Victor issue 111, artwork by Ted Rawlings.
A strip from The Victor
See The Victor issues 110 - 119.
Writer:- The Victor editorial team. Artist:- Ted Rawlings.
Main cast:- Harry Harper.
Time period:- late 19th century Victorian London, capital of England.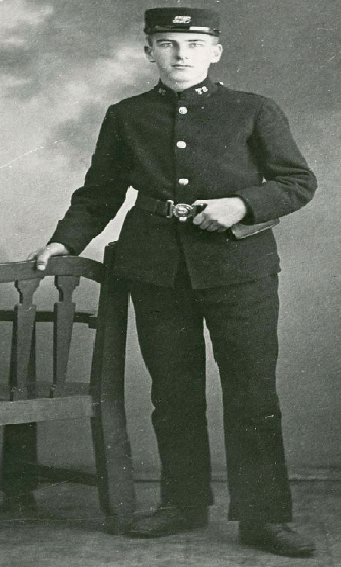 Above picture is of a British Post Office boy messenger, circa 1900. Photograph from British Postal Museum and Archive page.
This website also has a PDF file about Victorian boy messengers which can be downloaded. The document includes photographs and application notes for those boys who wanted to become Post Office messenger boys. (Boys needed to be over 13 but under 14 1/2 years old; be in good health and vaccinated; expected to work 50 hours a week, starting at 08:00 and finishing no later than 20:00; were granted 12 days holiday a year; uniform provided; free medical attention and good prospects).
Messenger boys had to be well spoken, educated, fit and honest.
The file also has an example of an 1914 entrance exam which would be messenger boys had to pass. Eight exam papers in all covering English (2 papers), handwriting, geography, arithmetic (2 papers), spelling and history. Four papers in the morning, with a break of five minutes between each one. Then a lunch break of one hour, thirty-five minutes and then the remaining four exam papers, following the structure of the morning exams.
Having had a look at some of these test papers, I would be hard put to answer some of the questions and that's allowing for the questions being relevant then as opposed to now.
The following link about London Messengers written by James A. Jones of the London Evening News paper provides an interesting insight into their lives. It appears that the messengers did travel abroad, deliver valuables and so on. All of which our first selection of stories about Harry "Hotfoot" Harper gets involves in.
"Hotfoot" (because he's fast on his feet), Harry Harper is a messenger boy, who delivers messages by hand. This series being set in the late 19th century, in a time where telephones were not in everyday use. This being a Victor series, what would be in normal circumstances a boring job, is anything but. Harry has to deal with bullies and other sorts of obstacles in order to deliver his messages. And sometimes it wasn't just messages he delivered.
The following adventures of plucky Harry Harper are from issues 110, 112, 113, 116 & 119.
text &copy Adrian Banfield, 2013; artwork &copy D.C. Thomson Co. Ltd.