The Floating Man.

See The Hornet (First series - America) issue 251 (29th June 1968) to issue 257 (10th August, 1968).

(Second series - Great Britain, South Africa, Australia and other countries) Issue 337 (21st February 1970) to issue 351 (30th May 1970).


Writer:- The Hornet editorial team. Artist:- Edmundo Fernandez (also known as Ripol).
Main cast:- Paul Boyton.
Time period:- late 19th Century, Victorian period.

'No traveller should be without a Merriman suit, folks! Guaranteed to float in any waters. Wear a Merriman suit and laugh at shipwrecks!" so says Paul Boyton. Issue 343.

I was going to write that the character Paul Boyton, the Floating Man, was one of those eccentric British created comic characters. But whilst doing some research, I found out that Boyton, an American, was a real person and that the Merriman Suit also existed and was invented by C. S. Merriman. Boyton did spend his time travelling with the suit and floating across many lakes and down many rivers of the world. He also swam across the English Channel in May 1875 on his second attempt. (More on this below).

His adventures being 'loosely' adapted and re-told in The Hornet. Elements from his real adventures were used in the stories. For example, he was a keen cigar smoker, he did tow a boat with his supplies after him, whilst he floated down various rivers and his suit allowed him to raise a small sail. He was apparently attacked by sharks. The character must have been popular as he starred in two series. All of his adventures being pencilled by Edmundo Fernandez (Ripol).

I'll review the fictional Boyton series first, then look briefly at the life of the adventurer.

The fictional Merriman suit consists of five pieces and in appearance looks similar to a modern day diving suit. A young boy's view on this suit, would probably be, 'Wow!'

An adult's view would probably be, 'So how do these five parts connect together to form watertight seals and still be flexible at the shoulders and the top of the legs?'

Like the real Boyton this series travels around the globe, with our hero visiting many countries and at the sametime having many adventures. By the second series the fictional Boyton has realised that his adventures are becoming more dangerous and life threatening and in this he series wears two guns. He certainly needs them in some of the episodes. (See issue 338 below for what to Boyton at first looks like an easy job, but turns out to be a hazardous prank played on our hero courtesy of the local Aussie townfolk).

The final two parts of this series, see Boyton working alongside Colonel Theodore Roosevelt and his soldiers, The Rough Riders, during the Spanish-American War. The plots are good and the artwork by Fernandez is excellent.
Historical Notes
Who was C. S. Merriman?
Clark S. Merriman lived in the land-locked state of Iowa and invented the suit for the use of saving the lives of shipwrecked seamen. Boyton looking for a challenge and adventure was just the man to sell the suit.

How did the Suit work?
In Captain Boyton's own words, 'It was 1874 when I donned my first rubber suit. It was composed of vulcanized rubber and consists of two distinct sections, both joined at the waist. The pantaloons end in a band of steel over which the lower part of the tunic fits with a strap covering it all, thus making a perfectly water-tight joint. At the back of the head, the back, the breast and on each thigh there are five internal compartments, each have a tube for the purpose of inflating them with air from the mouth. The face is the only part of the body exposed to the weather when completely encased in the rubber suit.

I float on my back, and propel my body feet foremost with a double-bladed paddle at the rate of a hundred strokes per minute. Whenever I choose I can get into an upright position. For the purpose of conveying provisions [and so on], for a long trip I have a small iron boat, which I named 'Baby Mine,' this boat is thirty inches long, twelve inches wide and twelve inches deep. She is completely closed other than the hatch which is protected by a water tight cover.'

In the image below the air pockets can be clearly seen in the right hand drawing. (Extract from Sullivan's Roughing it in Rubber).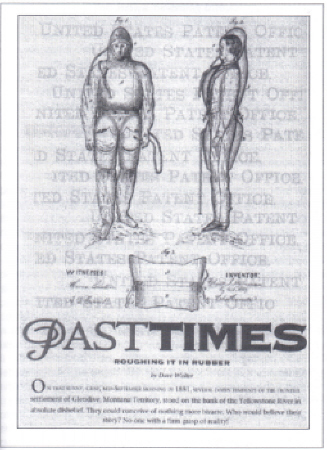 Paul Boyton - a brief biography. (June 29, 1848 - April 19, 1924)
Boyton was born in Ratthangan, Kildare county, Ireland , but emigrated with his parents to America during his childhood. It is rumoured that he ran away from home aged fifteen to serve in the Union Navy, during the American Civil War. Further adventures ensured when Boyton joined the Mexican Navy and the French Franc-tireurs during the Franco-Prussian War. Upon his return to the United States he helped set up the new United States Life-Saving Service. This organisation was a precursor to today's United States Coast Guard. It was whilst Boyton was serving with the Atlantic City, New Jersey's lifesaving service that he began taking an interest in C.S. Merriman's Suit.

He recognised not only that the suit had great potential, but that he was a natural salesman. He publicised the suit by swimming in rivers and lakes in America , Europe and further a field. For example, he gained much publicity when he crossed the English Channel on his second attempt on 28th May 1875, in 24 hours. His appearance in many small river towns in the U.S. usually resulted in great interest. In later years in opened North America's first amusement park, called the Sea Lion Park on Coney Island in 1895. Boyton is an example of a true Victorian adventurer, with a zest for life and for exploring.

English Channel crossing

Boyton's successful crossing of the English Channel was reported at length in the London Times of 31st May, 1875. What follows are selected passages from the newspapers report.

'On Thursday [Boyton] left Boulogne for a small village near Cape Grisnes and took up his quarters at a little inn. About half-past 2 a.m. on Friday he proceeded to the waterside. At that hour the 'Prince Ernest' approached the French coast, having been placed at his disposal by the directors of the South-Eastern Railway Company. The vessel was under the command of Captain Dane, to whose complete knowledge of the tides and currents of the Channel Captain Boyton gratefully attributes a great portion of his success. [At] exactly 3 o'clock French time, when a rocket was fired from the beach indicated that Captain Boyton had entered the water. Presently he was distinguished, through the thin mist, paddling steadily in the direction of the small boat which was to be rowed in front of him during his journey.

About six o'clock a feeling of drowsiness came over him, and continued more or less until 11 o'clock. When hailed from the steamer, however, he replied cheerfully and made no complaint. Captain Dane ascertained that he [Boyton] was feeling sleepy and rather stiff. Upon this Dr. Howard conveyed to him half a pint of strong green tea and 3 oz of beef sandwiches.

After four o'clock he again experienced the flood tide and was carried in the direction of the lightship at the south end of the Goodwin Sands [on the Southern English coastline], with a shoreward tendency. [Boyton] had since 11 o'clock taken nothing but a second lot of tea and another three ounces of sandwiches; but, to judge from his ceaseless paddling and his replies to questions, his strength was not diminished. Night was fast closing in when the Dover lifeboat brought the intelligence that he was about six miles from the shore, between Dover and the South Foreland Lighthouses, and that whem the tide turned, at 9 o'clock, he would have the advantage of an ebb current. Captain Boyton was rather disappointed at this intelligence, having imagined that he was nearer the end of his journey. By means of his sail, which had been taken down for a time, he made fair headway, only occasionally ceasing to work his paddle in order to give his arms and wrists a short rest. At half-past 9 he had a supper of tea and sandwiches.

Within 22 minutes of a 24 hours' battle with the waves and currents of the Dover Straits, he landed a few hundred yards on the west side of the South Foreland. A rocket was fired from the boat which had conveyed him, and the steamer displayed coloured portfires. [Boyton] seemed to have suffered very little from his prolonged exposure. The doctor found his temperature to be only one degree above its normal condition, while the pulse beat at the rate of 72 a minute. As the 'Prince Ernest' passed the Dover Admiralty Pier a salute of 11 guns was fired.'

Further reading.

Sullivan Colleen Captain Paul Boyton.- Roughing it in Rubber.- U.S.A.: Booksurge, 2006.- ill.- 348p.-
The stories below are from issues 253, 338 and 348 respectively.
And thus our hero sails off into the sunset. (Well, actually he's arriving at a new destination. But a comic reader has to use their imagination. So we'll imagine Boyton's departing on another epic voyage).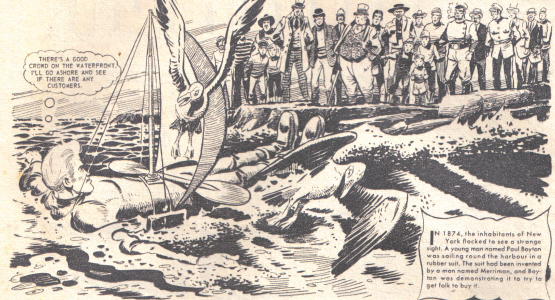 &copy Adrian Banfield, 2009.